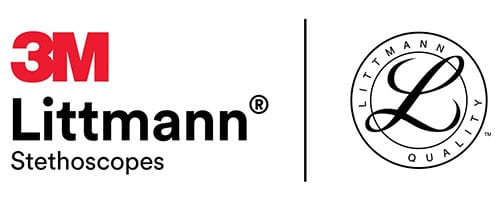 Littmann Student / Lightweight Stethoscope
Littmann Student / Lightweight Stethoscope
The Littmann Lightweight II S.E. is a general-purpose stethoscope with an improved design that provides reliable acoustics for basic blood-pressure and limited physical assessment.
Littmann Classic III (3) Stethoscope
Littmann Classic III Stethoscope
Features a two-sided chestpiece with tunable diaphragms on both the adult and pediatric sides, Single-piece tunable diaphragm is easy to attach, and easier to clean because its surface is smooth without crevices. Pediatric side converts to a traditional open bell by replacing the single-piece diaphragm with a non-chill rim. Next-generation tubing provides longer life due to improved resistance to skin oils and alcohol; less likely to pick up stains. Small tunable diaphragm is useful for pediatric, small, or thin patients; around bandages; and for carotid assessment.
The Uniform Shop offers the full line of Littmann Stethoscopes from lightweight student stethoscopes to the newest digital stethoscopes. Although our in-stock inventory of stethoscopes is limited to the most popular, you may either come in to select your specific style and color or you may order your stethoscope online for fast delivery. 
Monday - Friday: 11 - 6
Saturday: 11 - 3
(Closed Sunday)

The Uniform Shop - Gainesville
132 Bradford Street, NE :: Gainesville, GA 30501
TheUniformShopGainesville.com
Located in Downtown Gainesville, Georgia
Newsletter Signup
(Savings & Special Sales)